Recycle Your E-Waste Responsibly

According to the e-Waste Association of South Africa, South Africa generates about 6.2 kilograms of e-waste per inhabitant annually and only 12% of that is recycled. Many consumers are still not sure how to safely dispose of old computers, smartphones or other electronic devices. AST Recycling provides e-waste management solutions that help companies and consumers responsibly dispose of old and unwanted IT equipment while minimising any risk of data or identity theft.
AST Recycling recycles your electronics in a responsible and compliant way. We hold the highest level of certifications available ( ISO 9001, ISO 14001 and ISO 27001) for data destruction and environmentally responsible recycling.
We Recycle The Following E-Waste

- Desktops and laptops
- Keyboards and mouse
- Smartphones, PDA's and cellphones
- Power supplies
- LCD monitors and televisions
- Printed circuit boards
- Modems
- Gaming systems
We pay you for every kilogram of electronic waste recycled.
We also offer a free collection service for bigger quantities.
Keep e-waste out of landfill with AST Recycling.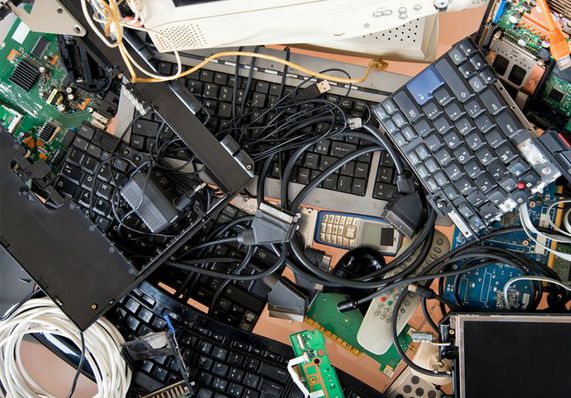 Data Sanitisation
An insatiable hunger for new cutting-edge technology leads to unprecedented volumes of electronic equipment. Whether from breakdown, or just the availability of a newer model, people discard electronics at the slightest inconvenience.
More than ever today, it's critical when you get rid of an older smartphone, laptop, iPad or tablet to recycle them with a reputable recycling company. A lot of people don't realise that those devices are loaded with your personal data.
If you have ever had a photo of your ID on a device, if you've ever stored credit card information, photos you wouldn't want anyone else to have, or scans of personal documents, consider having your hard drives professionally sanitised before you sell them on or donate them, because the chances of your information being recovered are very high.

Ask us about our data sanitisation solution.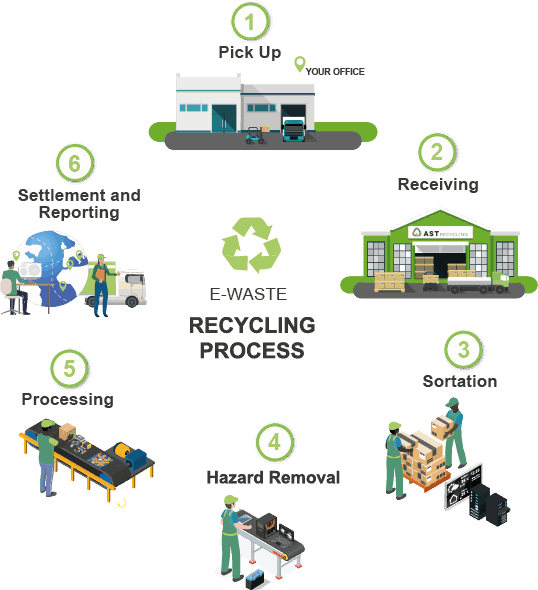 Free Certificates
Using clearly defined environmentally friendly processes and procedures, based on our ISO 14001: 2015 certification and standards, we are able to offer our clients a one-stop solution for their e-waste recycling requirements.
We issue free certificates of Data Destruction and E-waste Disposal on request.
Donating Your IT Equipment?

It is said that one man's junk is another man's treasure. Never is this truer than in the technology space, in which one organisation's outdated equipment can be just what a smaller organisation needs for its day-to-day administration. Or, some companies even donate or sell equipment to their staff.

Donating equipment rather than discarding it is also a great contributor to the circular economy, extending the life of goods rather than sending them straight to landfill when their current usefulness has expired.

AST Recycling helps companies to donate IT equipment while ensuring that no data is compromised and all regulatory compliance is adhered to.

Please feel free to contact us with any questions.